KSBBJ/JS TYPE PRESSURE VACUUM RELIEF VALVE
2022-08-15T07:16:24-04:00
2022-08-15T07:16:24-04:00
http://kspc.com.vn/en/news/kspc-product/ksbbj-js-type-pressure-vacuum-relief-valve-13.html
http://ikspc.com/resources/endUser/images/pages/part1_3.png
KSPC - PHUC MINH CO.,LTD
http://kspc.com.vn/uploads/logo.png
The model KSBBJ and KSBBJS pressure vacuum valves are an advanced design for vent to atmosphere applications.
Designed manufactured and tested according to the API 2000 code, these valves utilize the latest technologies to provide protection against positive or vacuum over pressure and prevent air intake, evaporative losses of product and help to contain odorous and potentially explosive vapours.

---

Some special fluid or gases are sublimated at room temperature. The safety of tank is kept by the supply of external heat and the normal operation of valve disc (pallet) for venting.
Model KSJS type are designed and manufactured to supply the steam through the steam traced of the main valve.
These pressure vacuum valves maintain a tight seal until system pressure or vacuum exceeds the set pressure.
The valves allow an intake of air under constant pressure during emptying, or discharge excessive over pressure during filling of the tanks.
Flow curves are provided to help you select the proper valve size for venting requirements. In addition, KSPC's applications engineers are always available to assist you
The KSBJ is a weighted pallet model designed to handle pressure and vacuum with a minimum pressure of +/-20mmW.C and a maximum setting of + 700/-430 mmW.C
The KSJS is a spring loaded model designed to handle pressure and vacuum with a minimum pressure of +700/-430mmW.C and a maximum setting of +/- 9,000mmW.C.
Body materials are available in Carbon Steel, 304SS, and 316SS with various trims to suit individual requirements.
Sizes range from 50mm through to 350mm with ANSI 150lb flanges as standard.
(Different connections available on request).
---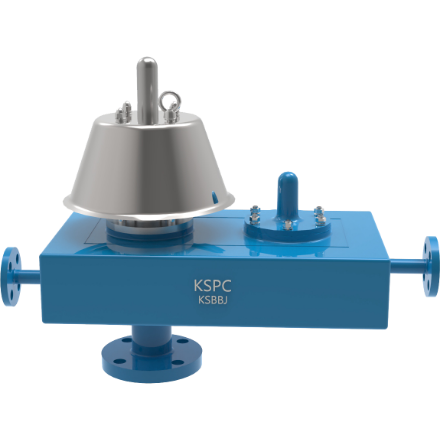 .